Parts of Speech Serie – Adverbs
Adverbs are used to describe or modify:
Verbs
She walked slowly down the street.
They sat silently in the hospital waiting room.
Adjectives
The basketball player had impressively long
This suit is absurdly expensive.
Other Adverbs
The president spoke extremely confidently.
The race car goes incredibly quickly around the turns.
Types of Adverbs
There are various types of adverbs that are used to describe verbs/adjectives/adverbs. These include:
Time – When?
yesterday
today
later
earlier
never
tomorrow
For example:
"The email was sent today." (Adverb = today, Verb = sent)
"I will go to the dentist tomorrow." (Adverb = tomorrow, Verb = go)
Place – Where?
anywhere
everywhere
here
there
somewhere
near
far
For example:
"I will meet you there at one o'clock." (Adverb = there, Verb = meet)
"In autumn, tree leaves fall off trees everywhere." (Adverb = everywhere, Verb = fall)
Manner – How?
fairly
gladly
cleverly
quietly
slowly
For example:
"He quickly ran up the stairs." (Adverb = quickly, Verb = ran)
"The team won the game fairly." (Adverb = fairly, Verb = won)
Frequency – How often?
normally
often
annually
momentarily
every day/week/month/year/hour/minute/second
For example:
"He often watches" (Adverb = often, Verb = watches)
"They meet for Christmas every year." (Adverb = every year, Verb = meet)
Degree – How much?
fully
partially
altogether
almost
completely
sufficiently
For example:
"She almost fell into the pool." (Adverb = almost, Verb = fell)
"I was completely satisfied with the dinner." (Adverb = completely, Verb = satisfied)
Confirmation and Negation – Confirm or Deny?
no (-)
hardly (-)
doubtfully (-)
definitely (+)
absolutely (+)
surely (+)
For example:
"They will definitely enjoy this restaurant." (Adverb = definitely, Verb = enjoy)
"He hardly ever leaves the house." (Adverb = hardly, Verb = leaves)
Comment – Used to show opinion, change the tone of the entire sentence.
fortunately
happily
obviously
understandably
For example:
"Unfortunately, I won't be able to make it tonight."
"You are obviously under a lot of stress."
Conjunction – Used to show the effect of something or show the relation between two clauses.
however (Yet, on the other hand, in spite of)
consequently (As a result, resulting in)
accordingly (Therefore)
moreover (Besides, in addition)
conversely (Opposite of, contrary to)
For example:
"He wants to play baseball; however, his soccer schedule interferes."
"The chef cooked the steak too much, and, moreover, it was too salty."
"He does not get on well with his manager, consequently his career is stagnant."
More Examples of Adverbs: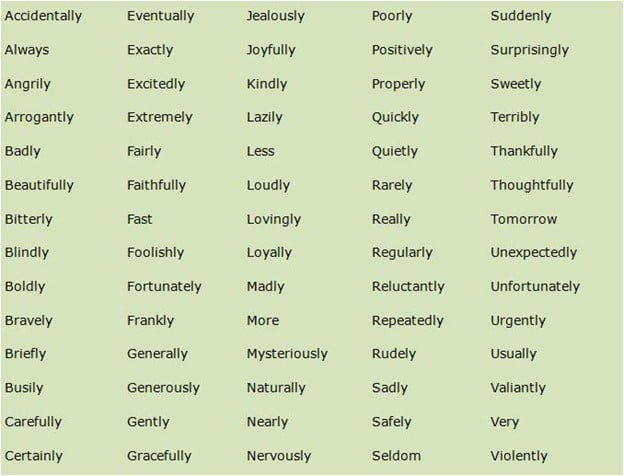 Don't forget to check the other articles of the Parts of Speech Serie.